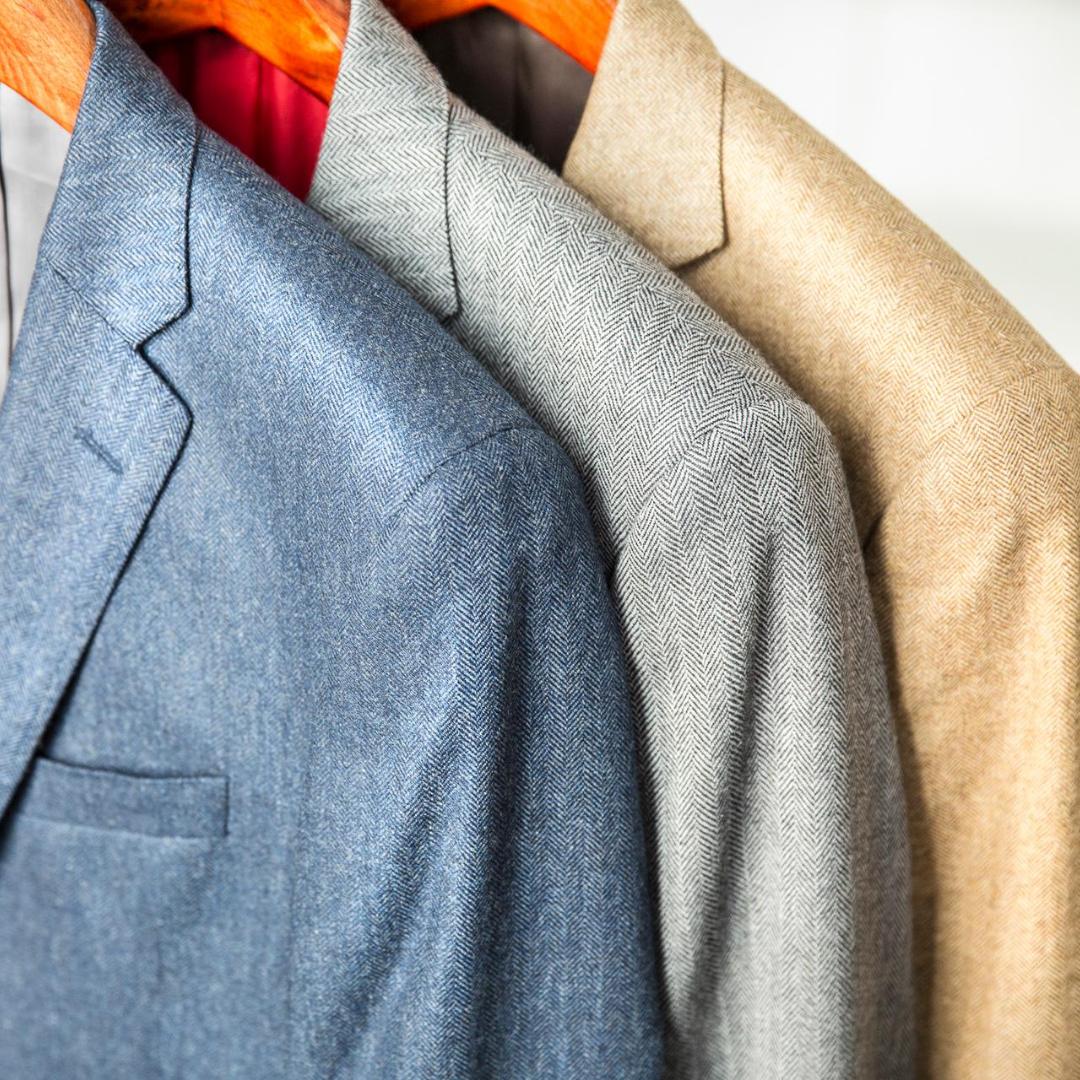 Suit Care
We always say a quality suit is an investment in yourself. We know that our clients come to us with excitement when they are ready to order a custom made suit and it's always our goal to deliver a quality product they can enjoy for many years. With that in mind, we would like to share some friendly tips on how to care for a suit once you take it home, to ensure a prolonged enjoyment. We will break it down into three categories:

Overall wear – the load you can place on a suit
Cleaning – best practices for suit care
Storage –how to store your custom suit tips
Overall suit wear tips:
When you own a quality custom made suit that makes you look sharp, it would only make sense to wear it as many times as you wish. Not only will a quality fit make you feel good but it will garner positive comments from your peers. A general guideline to remember is not to wear the same suit for two consecutive days. Wearing a custom suit on back-to-back days will cause stress on the suit fabric and therefore it is recommended to give the suit a 24-hour to 48-hour break until your next wear.
Another thing to pay attention to is the storing of multiple items in the suit pockets. Just because your suit has multiple outside and inside pockets does not mean they need to be all used! Overloading suit pockets can cause stress on the suit seams and can eventually loosen the shape of the pocket area and even create holes which will most likely affect the excitement you have to wear that suit again.
Suit cleaning best practices:
One question we get asked quite often has to do with; how to clean a suit? Caring for your suit is very important and a quality fabric can sustain some minor dust and spills. For example, it is not necessary to dryclean a suit after each wear. Sometimes all it takes is a damp cloth to spot clean minor stains or a suit brush to remove dust that suit usually attracts.

We already mentioned the importance of not wearing your suit on back-to-back days. The real reason for that is to air out your suit as it will pick up dirt and moisture from your body. Letting the suit air out for at least two days is always a good practice to follow.
Two great tools to have on hand are a steamer and a suit brush. A steamer does not have to be an expensive one by any means. Most steamers will allow you to freshen up the suit without having much impact or stress on the fabric. As well, a quality suit brush is an invaluable item to maintain a suit. Look for a brush with a wood handle and smooth bristles. A suit will naturally attract dust and it is a good practice to use the suit brush before you store it and also before you wear it the next time. Follow this up with a quick steam cleaning before your next outing and you'll be heading out looking like a million bucks!

When it is time to take your suit to the dry cleaner, we highly recommend looking for dry cleaners that are listed as environment friendly service providers. Their processes are more delicate and will surely extend the life of your suit fabric. Another key item to remember is proper dry cleaning for end of season storage. For example, you may be putting away your winter suits when Springtime arrives and will not have a need for your winter garments for a few months. It is a good practice to have your suit dry cleaned in the case of prolonged storage times.
Storage – How to store your custom suit:
Caring for your suit also involves proper storage. A couple of key items that are "must haves" include a proper garment bag and wood hangers with rounded edges. We advise against using plastic or wire hangers as they can affect the shape of the suit or create imprints in the fabric around the shoulder area. It is best to talk to your local tailor and ask about the best suit garment bag and hangers to use to ensure proper storage and care of your suit.
When hanging a suit in your closet, it is also important to leave enough space between your suits or other clothing items. Even though your suit maybe stored in the proper garment back, the space is required for best circulation and to reduce the chance of humidity that can be created in the closet which could also add damage to suit fibres.
Bonus tips for when it comes to caring for your suit:
Always make sure you unbutton your suit jacket before sitting down This relieves any stress that would be applied to the button area

Take your suit jacket off when driving.  A seat belt can cause wrinkles and stress on the fabric

Order a 2nd pair of trousers to match your suit jacket or to create a different look.  Trousers wear out much more easily when compared to a suit jacket and also pick up more moisture.  If you are to wear the same suit jacket with more frequency, then having additional trousers to complete the look and to stay fresh are highly recommended.
We hope these tips are useful for your ongoing suit care and maintenance practices.  Feel free to connect with our team at Suited with ID for all your local custom suit needs.  We are always happy to share best practices to ensure you walk out of the house with that Million Dollar Look!