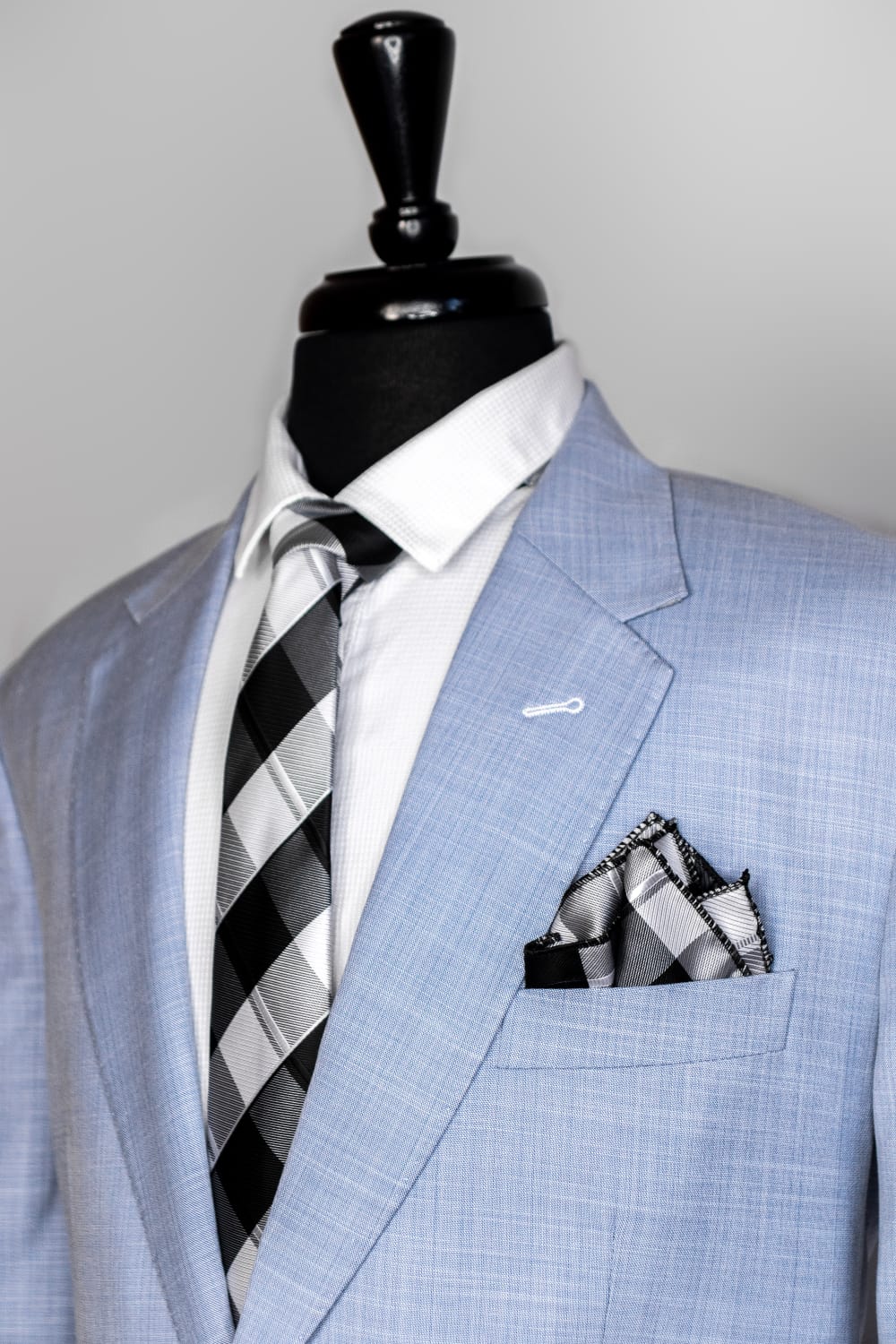 Suit and wardrobe inspiration for Summer
With many non essential businesses starting to open up across Canada, there are many men and women that are now faced with the challenge of finding workplace attire for the summer on short notice. Can't wear your track pants or shorts for that Zoom meeting now! With that in mind, your suit and wardrobe inspiration for summer needs to use the right breathable fabrics as well as fashionable accessories for you to stay fashionable and feel comfortable as the weather starts to heat up. Here are five quick tips for your suit and wardrobe inspiration for the upcoming summer season:
Have core staples in the wardrobe:
Having a custom fitted suit can be an excellent way to start your core wardrobe for the summer months. A suit which is designed with a lighter fabric and lighter colour will ensure that you have something that can be convenient and comfortable to wear while staying cool in the summer. Another recommended core piece to consider is a lighter button down blouse or shirt designed with a fitted cut to give a slimmer appearance while ensuring breathability.
Opt for cotton blends:
Using cotton blends for your fabric selectionwould be ideal throughout the summer to keep you cool. Other perks of cotton include a wide array of colours and styles that are available in the market. Make sure to check your labels for polyester or other synthetic fabrics, as you maybe stuck with breathability issues and feel uncomfortable on warmer days. Cotton reigns supreme for summer!
Opting for more pastel colours:
Pastel colours work great in the summer months. Trying out colours like mint green or lavender to could freshen up the look. Having pastel colours in your core wardrobe staples will ensure that you always have some fashionable hot summer pieces to change into over the season.
Choosing bright accessories:
One of the best times that you can accessorize with brighter colours comes with the summer months. Adding a touch of colour to your outfit with bold earrings, a striking bag, a punchy pocket square or even a pair of colourful sunglasses can help to enhance any summer suit and change your look for the better. This means your fabrics are more in the pastel hue but the accessories can be bold and brighter to add that extra punch.
New footwear:
Having appropriate footwear to pair with your summer wardrobe can also be important. Brown or cognac styled footwear with a sleek toe shape can often be an excellent pairing for a pastel hue and a summer suit. We are seeing many different shoes styles and colour variations for shoes lately and trying out a brighter colour may work for you in during the summer months. Testing out different shoes styles and colours is welcomed during the summer as it's all about adding some fun and bright elements to your look.
Hope you enjoyed these quick tips as you start to plan for summer work and fun outings. Anytime you are in doubt, feel free to connect with us. We are proud to carry over 1000 fabrics and would be happy to advise on the perfect summer look – tailored your way!